Are you using your intuition to get where you want to be - or are you going round in circles?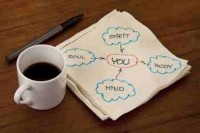 Often our life doesn't flow because what we believe on a surface level is not really in line with our deeper desires. So we engage in circular thinking which gets us nowhere. You may be surprised that your deepest intuition will lead you to completely different places to your everyday logical thinking. The heart of my coaching practice is to put you back in touch with your intuition through Creative Visualisation, combined with other mindfulness techniques.
Creative visualisation is a fun process which taps into your deeper intuition to break through your mind clutter to reveal your true desires and values super fast
You can break right through your mind clutter to what is really important in as little as 3 sessions. Often even by the end of the first session clients have come to some stunning realisations and are motivated to make the changes they need to reach their potential.
Using visual techniques works because you engage with your deeper self through intuitive methods. The visual outcome will creative a more sensitive and effective vision which your mind can more easily assimilate and act upon.
Creative Visualisation Coaching Works Package
In your first session you'll be working with images that appeal to you. It's very important that the process is quick and that you don't have time to apply your logical mind. This is how we get to your deeper desires. You'll be creating visual prompts which you can then use to explore values and visions. No artistic skill is necessary other than knowing how to use scissors and a glue stick! The first session takes around 2 hours.
In your second session we'll be working through your images to explore their deeper meanings. This usually takes an hour. At this stage it's likely that we'll discuss other techniques to use between sessions to reveal more about your true needs and desires and how to make them part of your life. Follow-up work varies according to the client and can include such wonderful methods as mind mapping, meditation and personal 'future you' biography writing.
Clients have found the results to be so profound that just 3 sessions can give them the understanding and motivation to make the changes necessary without any further consultation. However, you may decide to carry on with regular sessions to motivate you and help you achieve your dreams faster.
The Creative Visualisation Works Package costs £300
This includes your first 2 hour session, and a further two 1-hour coaching sessions.
Coaching Follow-up
You may want further support after the first three sessions to define specific goals and action plans in a traditional life coaching relationship. I'll be there to ask you the questions that will help you find the answers, and I'll be motivating you to take the actions between sessions.
Ongoing follow-up sessions cost £60 an hour
Timing of Sessions
It's very important that your sessions are close together. Whilst your first creative visualisation session will be uplifting, it could also bring up some delicate issues and it's easy to put off dealing with them. For this reason you should plan to book your follow-up sessions with no greater than 2 weeks in between. Cancelled sessions will incur a £60 fee if less than 48 hours notice. If for any reason I need to cancel a session your next session will be free.
What Creative Visualisation and Coaching is Not!
Creative coaching and mindfulness coaching is not counselling. My practice is designed to help you make decisions about what is important in your life and to create forward motion to achieve what is right for you. My practice does not pretend to be any form of therapeutic, psychological, relationship or financial counselling. Should you need specific assistance in these areas you will be encouraged to engage a relevant professional.
For more information or to book please contact Caroline on 07736 163216 or email carolinew@karmicliving.com