Mindfulness with Yoga and Reiki, Hatfield, Hertfordshire
Yoga Teacher Caroline and Reiki Master Nicki share
wonderful ways to create mindfulness in your life.
This enriching retreat day will help you to relax, revitalise and connect with yourself and others.
Using reiki and yoga traditions you'll learn about mindfulness and how to get more of it in your life.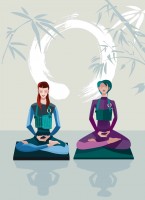 The essence of yoga is to connect mind, body and spirit in the present moment.
Whilst reiki provides a way in which to tap in, enhance our sense of well being and to stimulate healing in ourselves and our lives.
A warm and friendly atmosphere where you can meet like minded people and learn many new things.
During this retreat day, we will lead you through some peaceful and enjoyable activities. Here's how the day will look:
An uplifting morning yoga session
Hatha yoga postures and pranayama to unite mind, body and spirit in preparation for the day.
Meditation


Connect with your chakras (energy centres) through a beautiful calming meditation.

Introduction to Mindfulness
We discuss what mindfulness means to you and how it can be achieved in our daily lives.
Sharing Lunch
A sharing lunch is a lovely fun way to connect people, so bring along something simple to eat and share.
Conscious Breathing and Balancing
Find out how to use your breath and yoga balances to enhance your mindfulness.
Money and Gratitude
A deeper experience of mindfulness and how it connects to our hopes and fears.
Sharing Reiki
Partner up and experience reiki techniques together.
Cake and Chat
A chance to talk some more.
What people who have enjoyed our days have said:
"A calm, peaceful and enjoyable way to spend a Saturday - stress free!!" KH
"Enriching. Calming. Warm." LW
"A great mix of calming and interesting activities." S
"An interesting and peaceful day, learned a lot." AJHJ

Photo: Copyright: jesussanz / 123RF Stock Photo