Sunday 18th September 2011, 11am - 12.30pm
Lemsford Hall, Brocket Road, Lemsford, AL8 7TT
For the cost of one class you can change a life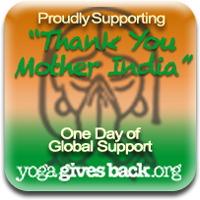 All over the UK in September yoga studios will be generating cash for this fabulous cause. Please join me for this class with a mission to help mum's in India set up their own businesses and support their children. It only takes two people to come to a yoga class for one mother in India to start her own business.
Yoga Gives Back is a charity that supports women in India through micro financing schemes. Additionally they have developed "Sister Aid" programms to fund education, vocational training and micro credit programs for struggling mothers, girls and orphans. Women are the best poverty fighters—the most effective return on investment for development dollars is an investment in women. With $25 a month, mothers can start their own businesses; girls and orphans can go to school.
Call me to book your place on 07736 163216.
Suggested price is £8, but please feel free to donate whatever you can afford
whether that's more or less than £8.